Joined

Aug 29, 2008
Messages

171
Reaction score

0
Points

16
Location
Website
Edit: Current Beta Version can be downloaded from
http://www.nestadlinn.de/orbiter/downloads/OrbiterNav_0_5_3_9b.zip
Also please join the
Beta Testing Social group
for bug reporting or general feedback.
-------------------X8----snip---original post-------X8----snip--------------
Hi all,
over the past months i've been working on a new tool for planning interplanetary travels. I call it Orbiter Navigator for now. It has progressed quite well so far and i plan to publish a beta version in the coming weeks, so i thought i'd show you what i've got so far.
The basic idea is to use an external application to do all the planning in an easy to use 3d interface. The application communicates with an orbiter plug-in via TCP/IP.
This is what the application looks like right now:
When you connect to orbiter, the data of the planet system and the current vessel are imported from the running simulation and visualized in the 3d view. Currently the trajectory of the vessel is always shown sun-relative so a low earth orbit looks like this right now: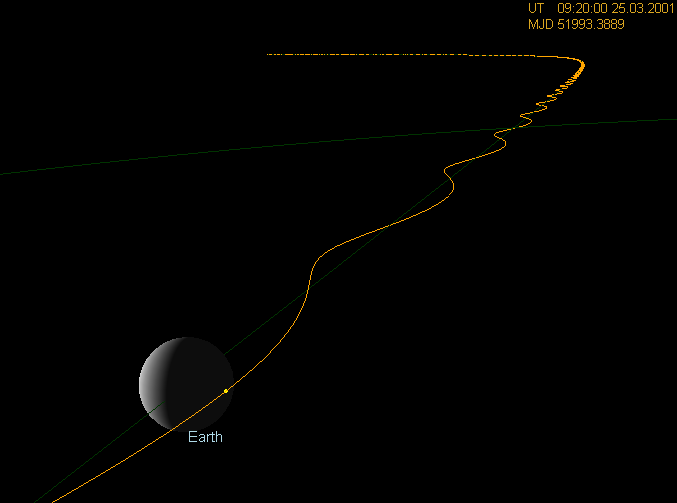 I'm currently working on an option to set the trajectory reference body. The sun-relative view is quite counterintuitive when planning the earth escape or just earth-moon transfers.
The yellow dot is the position of the vessel. To change the view time you use the slider below the 3d view or the buttons beside it for smaller steps.
The Date controls to the sides of the slider are used to set the timeframe in which the trajectory of the vessel is calculated.
Currently the trajectory is calculated using Runge Kutta 4th order method as described in the orbiter technical note "Dynamic state vector
propagation" (dynamics.pdf).
The whole planning of maneuvers is following the approach of the old OrbiterNav MFD. You insert a maneuver, adjust the dv and the trajectory in the 3d view is recalculated accordingly. So it is an experimental approach to maneuver planning.. currently there are no helper functions like the Lambert solver in IMFD or things like that.
To help with the planning you can select planets or moons as target in the lower left. The 3d view will then show you the closest approach points to these targets. For example a mars transfer:
Maneuvers are calculated as real trajectory segments, not impulse maneuvers. This also means that you can plan maneuvers for low thrust drives that last for days, weeks, months.. The only problem here seems to be the time compression in orbiter as the built in autopilots seem to have some stability issues with time compression above 10x. I guess i'll try to address this problem in the plug-in later by implementing an autopilot that can be used at higher time compression.. so far the plug-in just features a very simple MFD mode just showing the data of the next maneuver.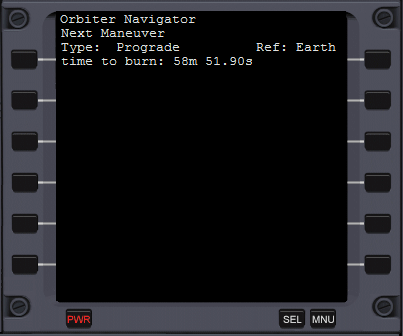 Thats about it right now. Let me know what you think.
Last edited: