Joined

Mar 27, 2008
Messages

194
Reaction score

0
Points

0
I'm still wrapping up the HyperDart package. I've decided to fix a few things things and then officially release it. There is a multitude of items I'd like to change, but together they would require an almost complete rebuild, so I'm going to settle for it being my "freshman effort" and just learn from the things I'd like to change.
With my love of 3D modeling I've always got a few models in development. Most never get finished for whatever reason, but here is the two front runners for ones I may finish and code:
The DC-Y derived launcher/spacecraft.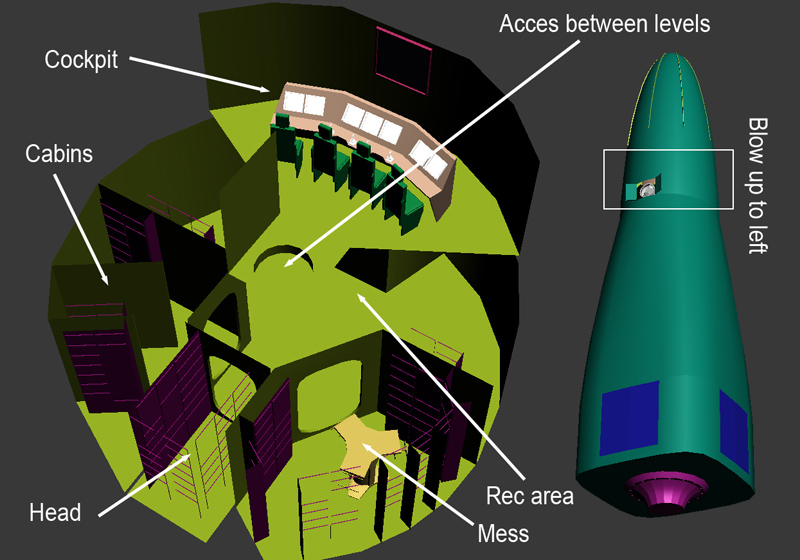 As you can see the VC would include the habitat area. There isn't much reason for anything other than the cockpit, but it is nice waste of polygons
The hab area is designed after the interior of skylab. I'd also build a mother craft that you could dock to for interplanetary flights. The big hang up for further development of this is the landing. I could never get the minilander to fly like I wanted, and this is just a gigantic minilander! The minilander would fly great as a lifting body on reentry, but would go into an unrecoverable stall when you tried to pitch it up to land on the tail. Not good for a craft that lands on its tail:lol: If I ever get that worked out I'll definitely jump back into this one.
The other front runner is one I built last week. it is a next 1-200 years space freighter. Designed to run to places as close as the moon, and as far as the outer planets. Of course no artificial gravity could be a problem on trips that long.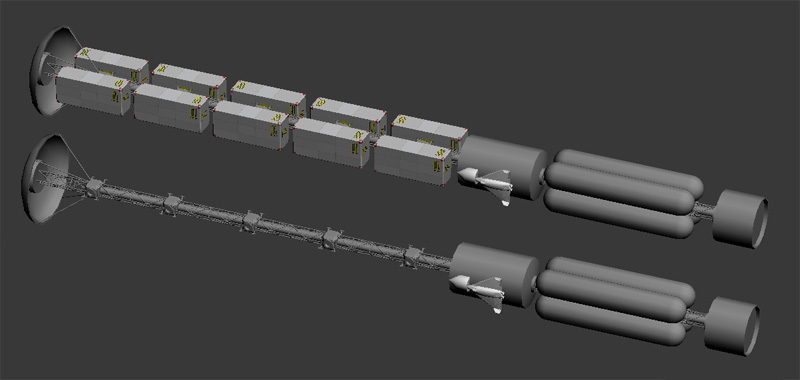 Here is two together, one with the cargo pods and one without. there is a DG docked to her for scale...she is BIG! I might make the heat shield a bit bigger, but it depends on the final cockpit layout. I have some ideas of the VC views I want to the pilot and load master. It is just a matter of building something that works with the existing design and gives those views. I still need to figure out engines and RCS too. She is about 13K polygons right now, without the containers. the lattice frame is killing me. I might rebuild it. I did make the containers much simpler, dropping them from 2800 polygons to 300, lol. That helped a lot with a full load!
While I was modeling I was thinking about new systems to add. Some top ones I came up with are engine wear and engines that are only throttle-able from 30-100%. The main engines would have a service life of say 4000 seconds. Every second they were running would be tracked, and you'd have a better chance of a failure the closer to the service life you came. I also toyed with limited restarts. Both would be "recharged" via engineer panel where you "schedule" maintenance. Perhaps taking 50% less time if you were docked to a space station. I also considered some crew control of the electrical system, perhaps shutting down some areas of the ship to conserve power. I was thinking of adding solar arrays to the freighter. They would work in combination with fuel cells and RTGs to provide the needed power. When you were in the inner solar system you'd have a surpluss of power from the RTGs and Solar Arrays, but in the outer solar system the arrays would produce much less power so you'd have to supplement with fuel cell power. Of course fuel for the fuel cells would be limited, so you'd need to shut down non-needed systems. It could work out to be a challenging mini-game. out of curiosity dows anyone know if you pump power into a fuell cell does it make fuel? Similar to how a generator turns into an electric motor when the current flow is reversed?
Enough for now, look for updates "soon"