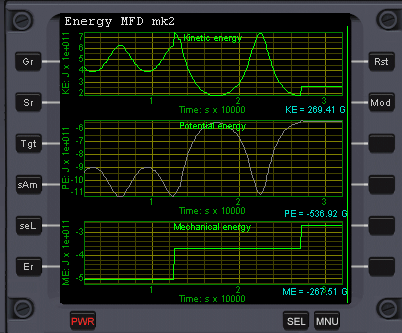 Energy MFD mk2 is a tool which samples your kinetic (KE), potential (PE), and their sum - mechanical energy (ME). The stored data is printed on graphs, giving you a nice view of your energy states. The MFD is mainly an educational tool, but you may find it handy in some situations.
The Energy MFD mk2's motto is:
"Isn't this what your physics teacher told you?"
The idea was taken from ronpenton's
Energy MFD
In the addon's documentation (doc\EnergyMFDmk2\), you'll find propositions of some interesting experiments.