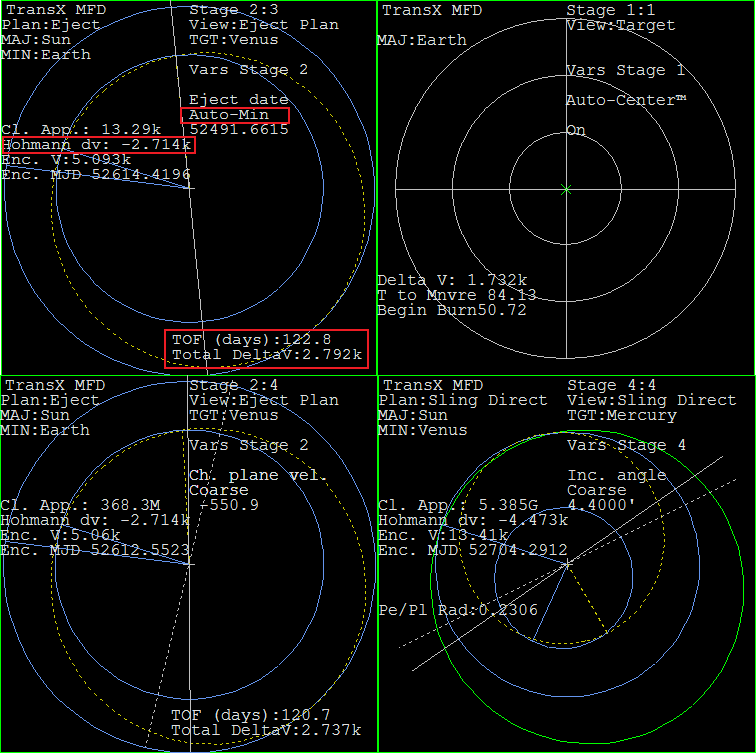 TransX is a flexible planning and navigation tool for interplanetary transfers and orbital operations.
This package replaces the stock TransX.dll. It contains bugfixes and new features.
Update:Linking VC++ dynamically now
New features:
A)Â 
Modul e Messaging Ext SDK
 utilisation for communicating with 
Launch MFD
 and 
BurnTimeC alcMFD (BTC)
B) Auto-Center™ (Target View's crosshair auto centering):The Manoeuvre mode now has a new variable: Auto-Center. Switch it on to automatically center the crosshair and switch it off 
in the Manoeuvre mode 
to disable it. 
C) The hypotetical line of nodes, which results from changing plane velocity, is now drawn as a dashed grey line, while the solid line is the reference line of nodes between source and target bodies.
D) Auto-Min™ (Closest Approach minimization):Serves as automatic solution finder
E) Displaying Hohmann DV, Total Hypo DV, Time Of Flight in Eject View and Circ Delta in Encounter View (together with dgatsoulis)
Requires:Â 
Modul eMes sagingExt
Microsoft Visual C++ 2005 Service Pack 1 Redistributable
For more information check the full 
README& lt; /a>
Sources available inside the package.
Latest sources 
on-line
.
Devel opment thread
.
Copyright © 2007-9 Steve Arch, Duncan SharpeCopyright © 2011 atomicdryad - 'ENT' button & Pen allocation fixCopyright © 2013 Dimitris Gatsoulis (dgatsoulis) - HacksCopyright © 2013-8 Szymon Ender (Enjo) - Auto-Min™, Auto-Center™ & other hacks