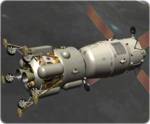 This is a concept of the Crew Exploration Vehicle based on pictures shown on Lockheed Martins webpage in 2004. The addon contains an upgraded Atlas 5 Heavy launcher with a stretched double-engine Centaur.
Also included is a lunar module to practice lunar orbit rendezvous and landing.
This is an update, re-compiled for Orbiter 2006 p1 edition.