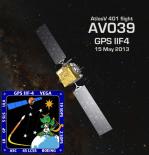 Launch the GPS IIF-4 satellite on AtlasV401 flight AV039.Add-on includes The GPS IIF-4 satellite and AtlasV401 flight AV039, launch scenario for 15th May 2013 and on-orbit scenario are included in the "GPS2F4" folder on the Orbiter Launchpad list. Operation and installation notes in Doc/GPS2F4/ folder.Requires 
MRO
and 
Multistage2015
.
Original spacecraft
 by BrianJ. Updated to Orbiter 2016 & Multistage2015 by Abdullah Radwan under Brian's permission.
Update 07-12-2018: Fix the invisible mesh bug and rename the files to GPS2F4.
Update 18-12-2018: 'Real' fix for invisible mesh bug by building in Release config, not Debug. Special thanks to BrainJ for suggesting the solution.