Director of Manned Spaceflight
Joined

Jan 22, 2011
Messages

1,409
Reaction score

0
Points

0
Location
On August 11th, at 12:48 A.M,GTS-2 ended with the safe landing of Columbia. It was the second orbital mission of the GTS program. It orbited the earth 80 times, and traveled a distance of approximatly 2,345,580 miles.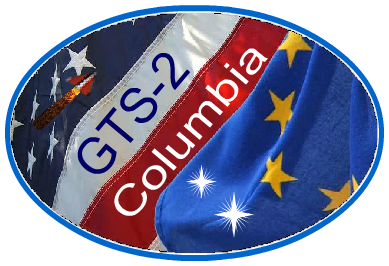 Ascent
On August 5th at 12:00:02 PM main engines were engaged and achieved liftoff horizontally. DG Columbia then turned to 42 degrees (north-east) to simulate a ISS mission's heading.

After reaching a certain height and speed, the Delta Glider auto pilot started its predictive correction at 12:10:40 PM. Final correction occured at 12:13:29leading up to MECO at 12:13:05.

8 seconds later at 12:13:13, the window tint was darkened. Radiators were opened at 12:13:15 PM and were fully deployed at 12:13:46 PM.

Current orbital parameters after MECO: 249 km at apogee 247.4 at perigee and orbital inclination is 51.65 degrees.

Launch was successful, no damage is observed.

-Eli13
De-orbit/Landing
At 8:57:13 radiators were successfully closed on the Delta Glider Columbia. De-Orbit burn began at 9:01:06 and ended at 9:02:09 bringing the re-entry angle to .7 degrees.

Soon, Columbia came into contact with the atmosphere, keeping its vertical speed at an average of approximately 80 meters per second. Eventually, Columbia slowed to about Mach 6 and was able to pitch down to glide on target to KSC.

Columbia intercepted the HAC and glided to intercept the localizer to Runway 33. Main gear touch down occurred at 12:48:54 and front gear touched down a 5 seconds later at 12:48:59.

No system anomalies were recorded. Everything in the Columbia performed nominally. The mission was a total success, the Delta Glider has proven that it can perform a short-duration flight. We are all go for GTS-3.

-Eli13
GTS-3 will be the next mission, which is scheduled to launch on August 23rd, and will deploy a satellite in polar orbit. Re-entry and landing will be on August 30th, the time is TBD.
Thanks to Eli13 for flying GTS-2 and designing the mission patches. The mission was done in real time, and spent approxamately 153 hours and 45 minutes in orbit.
Pictures of GTS-2 mission can be found here:
http://unionspacecommand.webs.com/apps/photos/album?albumid=12038051
Also, be sure to check in on our ongoing expedition at the ISS, Expediton 56, which you can follow at this blog:
http://www.orbiter-forum.com/blog.php?b=808