Geek Penguin in GTO
Donator
Joined

Jan 27, 2011
Messages

3,669
Reaction score

0
Points

0
Location
A new member for Japan's most long lived satellite program has reached the launch pad and ready to start a decade long career in supporting weather forecasting and monitoring over Asia from 36000 km above the Earth.
The Japan Meteorological Agency's Himawari (
sunflower in Japanese
) series has been serving as the main geosynchronous orbit weather satellite for the Asia-Pacific region since 1977, in the same role as NOAA's GOES series over the Americas and EUMETSAT's Meteosat series over Europe. Today's launch marks the 8th satellite to head into space, where it will replace MTSAT-2 launched in 2006. Unlike MTSAT-2 and the earlier MTSAT-1R, Himawari-8 and sister-craft Himawari-9 (due for launch in 2016) doesn't have the aviation traffic control data relay functions. Its imaging camera now has 16 spectral bands (compared with just 5 on the earlier series) with 0.5-1 km resolution across the visual and infrared bands, with the observation period now down to every 10 minutes. The same imaging camera will be used for the next generation geosynchronous orbit weather satellite of the United States - the GOES-R series, due for launch from 2015 onwards.
Despite Typhoon Phanfone skirting TNSC just 2 days before launch at Category 2 strength, damage to the launch center is minimal and the weather has cleared out for liftoff! Time to head to space I guess? :tiphat:

No code has to be inserted here.
Payload:
The Japanese Ministry of Transport Civil Aviation Bureau & Meteorological Agency ordered in 2009 two replacement geostationary meteorological satellites,
Himawari-8
and -9, from MELCO.
These satellites are to replace MTSat-1R (Himawari-6) and MTSAT-2 (Himawari-7). The two satellites are designed to remain in service for 15 years or more.
The imager on board Himawari-8 and -9 is designed to be comparable to the Advanced Baseline Imager (ABI) on board GOES-R.
No code has to be inserted here.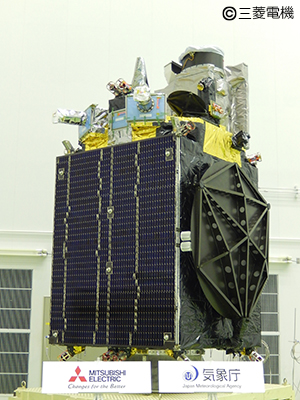 Launch Vehicle:
The 25th flight of the H-IIA Launch Vehicle (H-IIA F24) is an "H2A202" type with two solid rocket boosters (SRB-As) attached. The 4S (4 m in diameter) type fairing is used.

Live coverage of the launch:
Weather Forecast for Nakatane, Japan on October 7, 2014 (2 p.m.)
A mix of clouds and sun. High 22C. Winds NE at 15 to 30 km/h.
No code has to be inserted here.
Links:
Launch Sequence:
No code has to be inserted here.

*) Moment of combustion pressure reaching 2% of maximum
**) Thrust strut cutoff​
The current view on Tanegashima Space Center (webcam). *
* This picture is automatically updated at intervals.
You need to reload the page to see the latest image.