Puts the Fun in Dysfunctional
Administrator
Moderator
Addon Developer
Webmaster
GFX Staff
Donator
Beta Tester
Joined

Aug 9, 2009
Messages

6,621
Reaction score

69
Points

123
Location
Website
Here we go then folks; all the cars are launched, and the pre-season test has officially begun!
Let's start with a run-down of the new machinery, in 2016 constructors' orders; Thus, we must start with the indomitable
Mercedes
:
Drivers are listed in order of running number.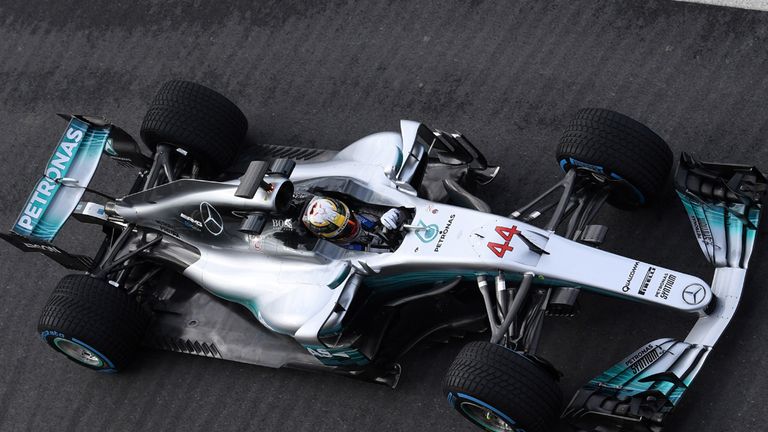 Mercedes AMG F1 W08 EQ Power+
, a daft name for a very pretty car.
Drivers 2017:
44
Lewis HAMILTON &
77
Valteri BOTTAS
Much is expected of the three-time winners this year, and despite myself I can't contain my awe at the beauty in the aero detail on this thing. The sidepods, the front wing, and the coke bottle rear are all exquisitely sculpted, and I think it's evident that this car has had a
lot
of aero study on it.
Red Bull Racing
RB13 - nice and simple, and as they point out, unlucky for some...
Drivers 2017:
3
Daniel RICCIARDO &
33
Max VERSTAPPEN
Sleeping a little in the past few years, Red Bull Racing have a chance to prove they haven't forgotten how to make a quick formula one car. The only team to beat Mercedes in 2016, the runners up believe they have a good chance this year, if their Renault power plant can keep up with the "significant advances" Mercedes have found in their power unit over winter.
Scuderia Ferrari
Ferrari SF7OH, another somewhat unwieldy name.
Drivers 2017:
5
Sebastian VETTEL &
7
Kimi RAIKKONEN
Arguably the team with the hardest job, this year could well be make or break for the pride of Italian motorsporting. Dismal performances in the last few seasons mean the form book is set against the scarlet cars, and we heard live as tempers fractured under pressure last season. This year, the car looks aggressive at the front, but I can't help feeling the rear could've done with some more love...
Sahara Force India F1 Team
VMJ10
, the car with the lightspeed "forehead"
Drivers 2017:
11
Sergio PEREZ &
31
Esteban OCON
After a brilliant performance last season to finish fourth overall in the championship, Force India's hopes now rest on what, in my opinion, is the worst looking of the new cars. From the bulky, blocky shark fin to the stepped nose, which Vijay refers to as a "forehead" (added because of suspension changes in the front area), she's not as elegant or refined as the others. The nose, however, is a bit different, and looks like an evolution on the "nostrils" the car has had for a couple of seasons now. Hopefully the car will prove that looks aren't everything out on the tarmac...
Williams Martini Racing
FW40, skipping a number to celebrate the team's 40th year in the sport.
Drivers 2017:
18
Lance STROLL &
19
Felipe MASSA
I have a soft spot for Williams, probably because I'm British, and I grew up watching Mansell, Prost, Senna and Hill - which is why their absence of form lately has pained me so. From promising pre-season testing to lackluster race and abysmal wet weather performance, the few results they have had have seemed more from the detriment of others than their own hard graft. This then is why it seems more worrying to me that Williams seem to be one of, if not the only teams
not
to opt for a complete overhaul and instead build on the previous season's car. With a rookie in the car for next year alongside supposedly retired Massa, it's hard to see where success will come from for Williams in 2017.
McLaren Honda
MCL32, as in, 32 of your five portions of fruit and veg per day.
Drivers 2017:
2
Stoffel VANDOORNE &
14
Fernando ALONSO
McLaren-Honda, the undeniable storm force from the 80s and 90s, haven't had the form they had perhaps hoped for when the decision to part ways with Mercedes as an engine supplier was taken in hopes of competing against the works team more effectively. Two seasons later, one at the back and one in the midfield, and it's all change at McLaren. Gone is Ron Dennis, the brusque , forthright technical director who saw McLaren to victories under the MP4 era - gone too, is the MP4 naming convention, signifying the end of his era in a dignified way. And back, by popular demand, is the orange. Honda and McLaren are hopeful that 2017 will be their year, but time and testing will see if the power plant and the somewhat skimpy aero at the rear of this car will bring them back to the sharp end of the grid.
Scuderia Toro Rosso
STR12, the car you just want to crack open and drink.
Drivers 2017:
26
Daniil KVYAT &
55
Carlos SAINZ jr.
Looking like a can of Red Bull itself, the STR12 was unveiled today, with Torro Rosso making us wait until the very last minute of the eleventh hour for their car reveal. They've been chasing an up to date Ferrari power plant for their 2017 campaign, in contrast to their sister team's Renault power - and RBR will be hoping that they aren't shown up by their little brothers out on the track this year, again.
Haas F1 Team
VF-17, so not the "very second one", though it still is.
Drivers 2017:
8
Romain GROSJEAN &
20
Kevin MAGNUSSEN
Haas F1 have my vote for "Best New F1 Team" for their performance last year. They did everything right as a new constructor, and it seems to have worked well for them, with a solid haul of points from their 2016 campaign. I'm not overly keen on the grey in their new livery, but the car's aero package is definitely complex and reflects a lot of detailed work and study.
Renault Sport F1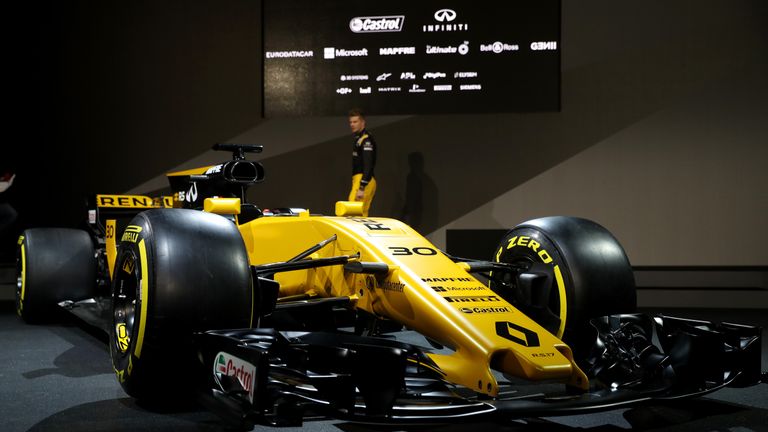 RS17, the bumblebee in Mercedes' bonnet this year?
Drivers 2017:
27
Nico HULKENBERG &
30
Jolyon PALMER
After a mediocre performance last year, the works team with the second-weakest and most complained-about power plant will surely be hoping for something a little better this year. Among the first to launch their car, they did so on stage amid pulsing electronic music and strobe lights, in a show to delight young and old, but not perhaps sufferers of photosensitive epilepsy. Incumbent driver Palmer may feel a little more pressure this time out as the well-respected Hulk puts him through his paces in what will hopefully be a competitive car.
Sauber
C36, dressed in old Prost's clothes?
Drivers 2017:
9
Marcus ERICSSON &
94
Pascal WEHRLEIN
Long time midfield runners Sauber will be keen to get a little higher up the pecking order with their 2017 challenger this year after coming last-but-one in 2016. Their 2017 car's livery might be a blast from the past, but the aero styling is very 2017 - let's hope the pace is, too. Ericsson is partnered by former Mercedes reserve driver Wehrlein, who many were expecting to be driving the second silver arrow this season - will that have any impact on his performance?
Manor F1
Nothing but a wind tunnel model, Manor F1 unfortunately couldn't raise the necessary funding to compete in the sport this year and will not take part. An honourable mention for this team after all they went through last season - it's not the way we should be treating F1's smaller and poorer teams.
Pre-season testing day 1 is complete; I'll post another one shortly with the results of that first day on track.