Director of Manned Spaceflight
Joined

Jan 22, 2011
Messages

1,409
Reaction score

0
Points

0
Location
Los Angeles (CNN)
-- Broadcast icon Dick Clark, the longtime host of the influential "American Bandstand," has died, publicist Paul Shefrin said. He was 82.
Clark suffered a heart attack while at St. John's Hospital in Santa Monica for an outpatient procedure, his publicist said Wednesday. "Attempts to resuscitate were unsuccessful."
The family has not yet decided whether there will be a public memorial service for the multifaceted Clark, although Shefrin said, "There will be no funeral."
Clark suffered what was then described as "a mild stroke" in December 2004, just months after announcing he had been diagnosed with Type 2 diabetes.
That stroke forced Clark to cut back on his on-camera work, including giving up the hosting duties for the "Dick Clark's New Year's Rockin' Eve" specials. He returned as a co-host with Ryan Seacrest on December 31, 2005.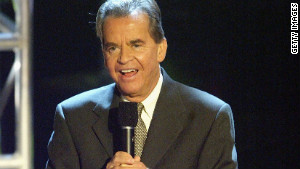 Dick Clark's impact on race and music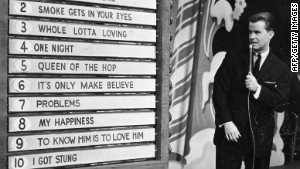 Clark on how he got his start
Clark anguished each year over whether to continue appearing on the annual show because of limitations on his speech from the stroke, U.S. Rep. David Dreier, a longtime friend, told CNN Wednesday.
"But then he would get deluged by people who were stroke victims and other people who had infirmities and they were such admirers of his fighting spirit," said Dreier, R-California.
Clark's "American Bandstand" work, which he began when it was a local TV show in Philadelphia in 1956, earned him the nickname "America's oldest living teenager." The dance show was picked up by ABC and broadcast nationally a year later.
"If you didn't go on 'American Bandstand,' you hadn't made it yet," singer Aretha Franklin told "AC360."
The savvy entrepreneur was a pioneer in introducing African-American and other performers to millions of young TV viewers. His audiences were integrated, among the first on television.
"Only God is responsible for making more stars than Dick Clark," said singer Tony Orlando, who was 16 when he first appeared on Clark's show in 1961.
Entertainers told CNN on Wednesday that Clark knew that music transcends race.
"Dick understood the connection that music had. It wasn't about black, it wasn't about white," Shawn Stockman of Boyz II Men told "Piers Morgan Tonight."
Seacrest gave a statement to CNN expressing deep sadness for "the loss of my dear friend Dick Clark."
"He has truly been one of the greatest influences in my life," Seacrest said. "I idolized him from the start, and I was graced early on in my career with his generous advice and counsel. When I joined his show in 2006, it was a dream come true to work with him every New Year's Eve for the last six years."
Seacrest called Clark "smart, charming, funny and always a true gentleman."
Another major figure on the music scene was too upset to talk about Clark's death. Radio host Casey Kasem's wife, Jean, told CNN that Clark served as substitute host for Kasem's popular "American Top 40."
"We just feel that he was one of the most magnanimous human beings that we ever knew in the industry," Jean Kasem said of Clark.
Clark became wealthy as a businessman, producing successful TV shows through Dick Clark Productions. He created the American Music Awards in the 1970s, a competitor to the Grammy Awards.
He sold the company to Washington Redskins owner Daniel Snyder in 2007.
"One of the real draws when we purchased Dick Clark Productions was the opportunity to build on the tremendous foundation of programming that this icon of American broadcasting created," Snyder said Wednesday. "I got to know Dick over the past five years, and he was just as personable and warm in person as he was on television. Once you got to know Dick, it was obvious why he was so beloved by his fans. He was, in every sense of the word, a giant."
Born Richard Wagstaff Clark in Mount Vernon, New York, on November 30, 1929, he began his broadcast career working at a radio station managed by his father.
Clark, who was married three times, is survived by his wife, Kari, two sons and a daughter.
The Rock and Roll Hall of Fame inducted Clark in its nonperformer category in 1993.
Clark also hosted numerous other television favorites, including the "Pyramid" game shows and "TV's Bloopers and Practical Jokes."
"This guy was the best," said singer Freddy Cannon, who appeared on "American Bandstand" 110 times. "He helped me from the very bottom of my career all through the '80s and the '90s, and he's going to be missed a lot."
Former CNN talk host Larry King said Clark's secret for success was his ability to be natural on camera.
"The hardest thing in the business is to be yourself, and no one knew that better than Dick Clark," King said.
Singer Donny Osmond said Clark was one of a kind: "If someone cannot fill your shoes, you are a legend. And Dick Clark was a legend."
Clark's passing follows by less than three months the death of another TV dance show icon, Don Cornelius, the creator of "Soul Train." Cornelius was found dead of what authorities said was a self-inflicted gunshot wound in Los Angeles on February 1. He was 75.
Source:
http://www.cnn.com/2012/04/18/showbiz/dick-clark-obit/index.html
Last edited: