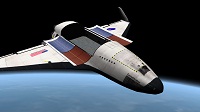 XR5 Vanguard - Modern NASA livery
Updated 18 March 2012.  FINAL update.

Overview
:
This is a top-skin remake of the XR5, in the form of NASA's current livery.  The intention is to present a realistic-looking vehicle.

Change Log (V2.2)
:
* Rendered texture using the correct procedure.  Result guaranteed to improve crew morale: Cockpit-rear overhead windows now exhibit transparency.
* Added representation of PIVRO and SIVRO.  These are cameras built into the tips of the winglets on either side of the ship.  The Port / Starboard Infra-red / Visual Spectra Re-entry Observatory was, operationally speaking, employed most heavily during orbiter development and spaceworthiness trials to determine the effectiveness of the vehicle's thermal protection system during re-entry.
* Solar panels inside of cargo bay doors now half-and-halved with system radiators.  Proof of concept is to share redundancy with legacy radiator system (in case of micrometeroid impact, equipment failure, etc).
Change Log (V2.1)
:
* Solar panels appended to inside of cargo bay doors.  Meant as a backup power supply.
* Crew ejection system depicted by caution taping around upper deck head.
* Slot antennas for kU-band communications.  These antennas are mounted flush with the hull skin for constant communications with the TDRS and ground networks.
Change Log (V2.0)
:
* United States Flag borne on starboard side of hull is now in correct orientation.  Oops.
* Minor concealment to 'frame' layer done at the cargo bay doors.  This was done to improve cohesiveness of the amalgamated texture-work.
* Minor rotation of broadside decals done to improve appearance.
* Moved and enlarged bow-side 'Constitution' placards from just behind the flight deck to just over the nose-side TPS.  Change was necessary to improve interpolation of the text; whether this was a good idea or not is still up to debate.