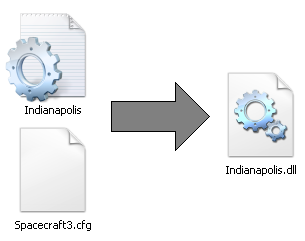 Spacecraft3 to DLL converter 141006, Made by Artlav in 2011-2014.
This program converts SC3/GV ini vessels into DLL vessels.This version is not quite fully done yet, expect minor bugs.
How to use:Install into Orbiter directory.sc3conv.exe make inifile dllname crew
The output will be a zip file with everything that the particular SC3 vessel required.Output will be in the program directory.
For simplicity there is a GUI version - sc3gui.exe, which would call the sc3conv.exe with what you provide in it.It automatically enumerates files in config/spacecraft directory.
Changes:141006:-Updated with fixes from GenericVessel branch, expect many, many bug fixes-Removed C++ code generation for now