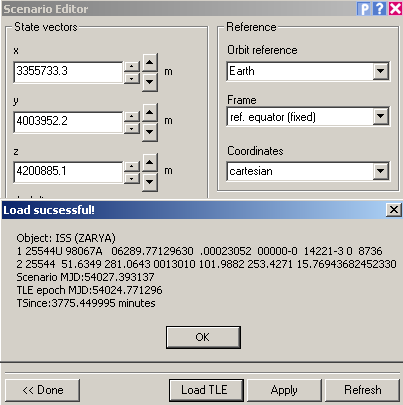 Modified version of Scenario Editor with NORAD TLE (Two-Line Element Sets) import support.Used NORAD SGP4/SDP4 orbital model for calculation state/speed vectors of earth-orbiting objects.
C++ Source code
for the SGP4/SDP4 algorithms was developed by Michael Henry
Installation:
Copy ScnEditorTLE.dll to Orbiter \Modules\Plugin\ directory and activate ScnEditorTLE in Modules tab.
Changes from standard Scenario Editor:
Added button "Load TLE" on "State vectors" tab of vessels parameters. Button active in Earth ref.equator(fixed)cartesian mode only.Orbiter must be paused during editing!
Useful links:
[*]
NORAD TLE Current Data.
[*]
ISS TRAJECTORY DATA
[*]
Space-Track (TLE database)