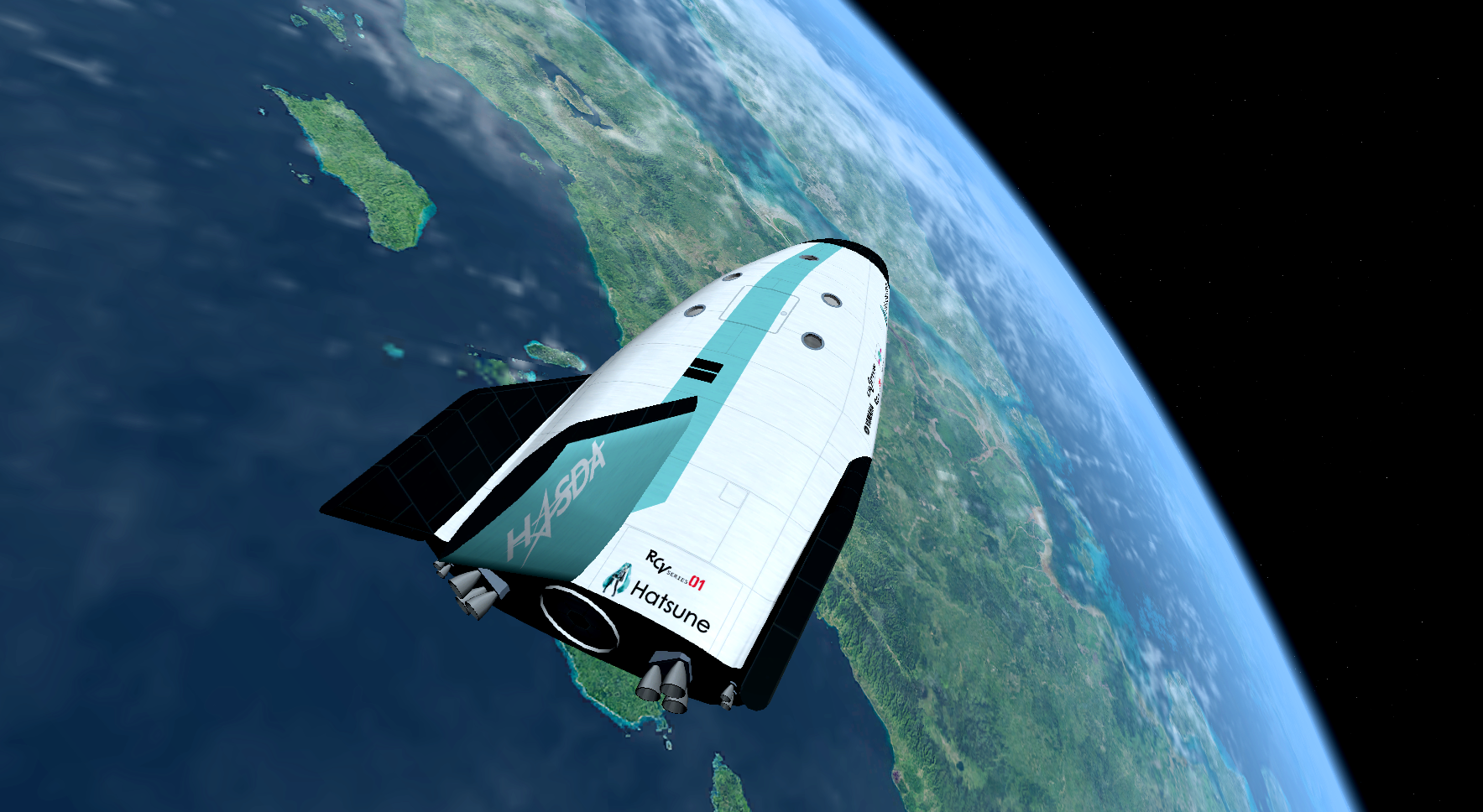 The
Reusable Crew Vehicle
is a manned lifting body spaceplane for the
Hatsunia Aerospace Science and Development Agency
(HASDA), first launched on 2007 August 31. It is launched on the M-II 01 launch vehicle and lands on a runway after a low-G re-entry. An expendable adapter is used for docking with space stations. The maximum passenger capacity of the RCV is five passengers, or three passengers with a few hundred kilograms of supplies. HASDA currently maintains a fleet of three RCVs, known as the "RCV Series": RCV01 "Hatsune", RCV02 "Kagamine", and RCV03 "Megurine".
There is also a NASA-owned RCV named "Spica" included in the package. It is launched on the Atlas V 402 rocket.
More details are in the manual (*\Doc\ReusableCrewVehicle). Scenarios are located in the "Reusable Crew Vehicle" folder in the Orbiter launchpad window.
Required addons:
Negishima Space Center
(http://www.orbithangar.com/searchid.php?ID=6424),
Velcro Rockets
(http://www.orbithangar.com/searchid.php?ID=3388),
M-II + Negi-5 launch vehicles
(http://orbithangar.com/searchid.php?ID=6438) for the M-II launch scenarios.
Atlas V launch scenario requires
Velcro EELVs
(www.orbithangar.com/searchid.php?ID=3462) and
MRO
(www.orbithangar.com/searchid.php?ID=3711)
Spa cecraft3 /genericvessel
(www.orbiter-forum.com/showthread.php?t=30362)
is required for the RCV itself.
AeroBrakeMFD
(www.orbithangar.com/searchid.php?ID=2139) is required for re-entry.
Disclaimer:
Hatsunia is a fictional, alternate version of Japan based on the virtual singing character "Hatsune Miku."
It is not unprecedented
for Miku to be associated with spaceflight. The RCV is based on an experimental JAXA aircraft called
LIFLEX
.
Thanks to Martin Schweiger for creating Orbiter, sputnik for creating Velcro Rockets, Vinka for creating Spacecraft3, Artlav for creating the Spacecraft3 to DLL&C++ converter (for the docking adapter only, because the converter doesn't preserve exhaust textures), Hielor for creating the Wings3D .msh exporter, and the Orbiter community for helping me in creating this.