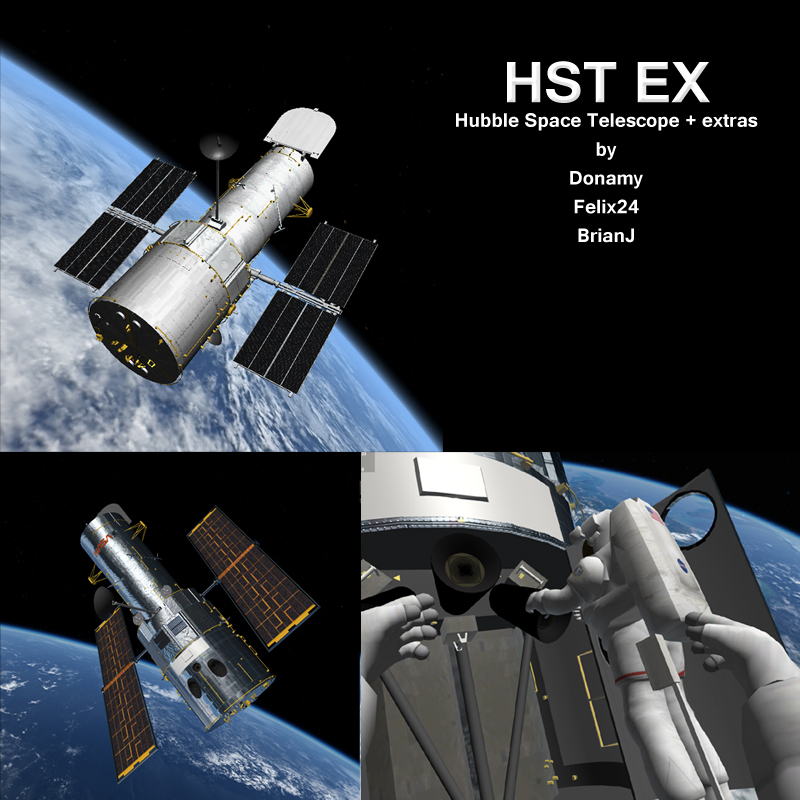 Hubble Space Telescope + Extras, for Orbiter2016.
HST feat. zoom FOV down to 0.2deg, "GoTo" by target name or RA / Dec, sun-tracking arrays, etc. Also features removable science modules (4 axial modules, 3 radial modules, 3 RSU) and solar arrays.
Add-on includes STS-61 ORUC (Orbital Replacement Unit Carrier) and replacement science instruments, guidance units and solar arrays for the first HST servicing mission SM-1. Two EVA astronauts are available to complete the mission.
Scenarios included in "HST_EX" folder in Orbiter Launchpad list:STS-31 - HST launchSTS-61 - Servicing Mission 1 launchSTS-61 - On Orbit, approaching HSTHST on Orbit 2018
Installation/operation notes in /Doc/HST_EX folder.
Includes meshes and textures, optimized for either default Orbiter DX7 rendering or D3D9 Graphics Client rendering.
Credits
onamy - HST mesh and texturesFelix24 - D3D9 modifications, textures, effectsBrianJ - Programming, additional meshes