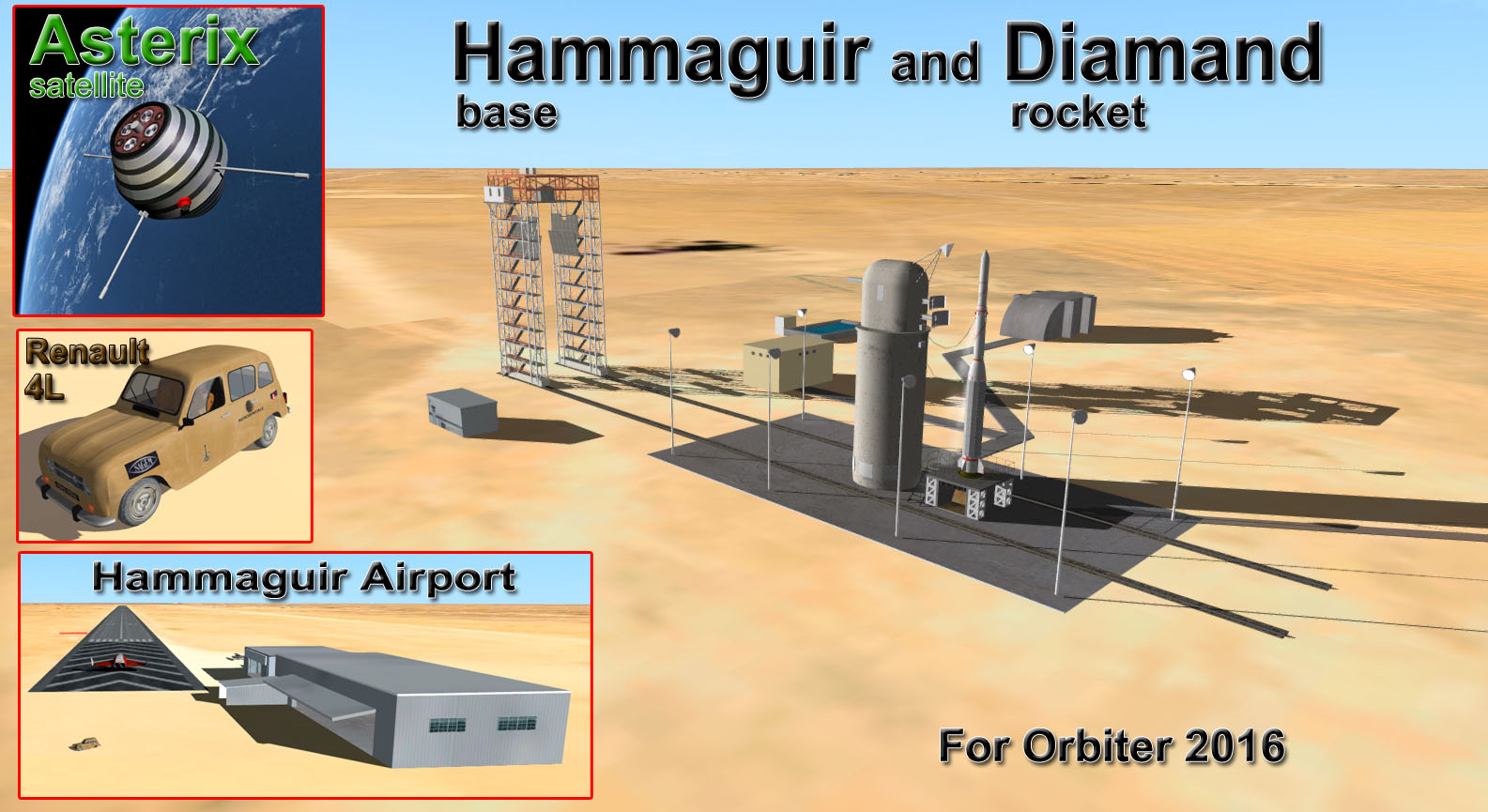 Hammaguir is an Algerian little town located at 100 km from the city of Colomb Bechar.
This French launch site was created in 1948.
It has been used from 1947 to 1967 to launch experimental rockets and from 1965 to 1967 to launch the "Diamant" launcher rocket, a satellite carrier.
The first French satellite A-1 named "Asterix" was launched by a "Diamant" rocket on the 26th of November 1965 at 15h47 UT.
It has been put in orbit with a perigee of 527 km, an apogee of 1697 km, and an equatorial inclination of 34.3°
A runway 27/09 of 2700 m with a VOR (freq 112.00 Mhz) can be used.
Please read the user notice in the
...\Doc\Hammaguir
folder
.
Works only with orbiter 2016
Mandatory :
OrbiterSoud 5.1
Included
Spacecraft4
by Vinka
and
Multistage2015
by Fred18
Thanks to them !
Recommended
: the latest
D3D9 graphics client
Launch Base, Diamant and Asterix satellite : by Papyref
Hires surface tiles (for Orbiter 2016) : by JacquesMomo
HISTORY :
V2 : Adding and Corrections
many minors corrections
a new texture for Diamant, more realistic and conform to history.
new sounds
heat protection before launch
and a simulation of a missed launch of Diamant with explosion
V3 : Adding and Corrections
- new dll for smokesÂ
V4 : Adding and Corrections
use of Orbiter2010 New lighting (please activate the "Local Light Sources" option in the orbiter launchpad)
a little change to reduce time before thermal-shields ejection.
increase of spin speed for Asterix
V5 : Adaptation for Orbiter 2016
surface tiles adaptation for Orbiter 2016 (Tile system is different !)
adaptation of some buildings (to stay stand up on the ground !)
improved scenarios (images, font, etc ...)
added sounds for the Movable Gantry animations
various updates to configuration and guidance files
adaptation for the new Orbitersound 5.1
Supported Orbiter Version

2016